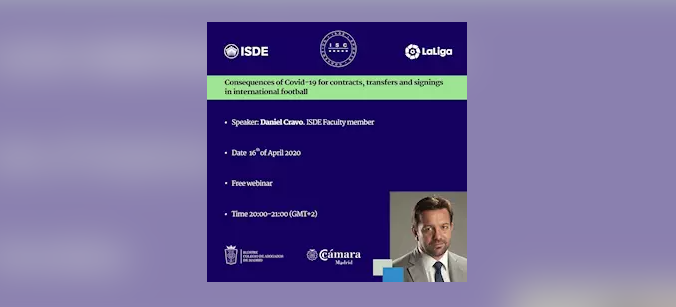 LAWYER DANIEL CRAVO ANALYSES THE CONSEQUENCES OF THE CORONAVIRUS ON CONTRACTS AND TRANSFERS
Brazilian sports law expert Daniel Cravo will analyse this Thursday (20:00) the consequences of the coronavirus on contracts, transfers and transfers in international football in a free online talk organised by the Instituto Superior de Derecho y Economía (ISDE).
A Senior Partner at Cravo, Pastl y Balbuena, Daniel Cravo is a member of the Executive Committee of the International Association of Football Lawyers (AIAF) and vice-president of the Sports Law Committee of the Federal Council of the Brazilian Bar Association (OAB).
ISDE, in collaboration with LaLiga, the Madrid Bar Association and the Madrid Chamber of Commerce, is organising these meetings as part of the ISDE Sports Convention (ISC) to analyse and discuss issues of interest in the wake of the health and economic crisis caused by the global pandemic of COVID-19.
Nearly 600 congress participants took part in the previous edition of the ISC, held at the headquarters of Banco Santander in Madrid and attended by the president of LaLiga, Javier Tebas, as well as the President of the Board of Directors of Real Valladolid, Ronaldo Nazario, the three-time world boxing champion Joana Pastrana and the Olympic badminton champion, Carolina Marín.
The conference dealt with current issues in sports law such as doping, corruption, match-fixing and sports betting; CAS arbitration; transfers of minors, and the position of the leagues and the majority of football clubs against the ECA and UEFA Super League project, among others.
Other issues that were also addressed at the congress on sports law and industry were the rise of eSports; women's and inclusive sport; management and sustainability in major sporting events; and the Blockchain.