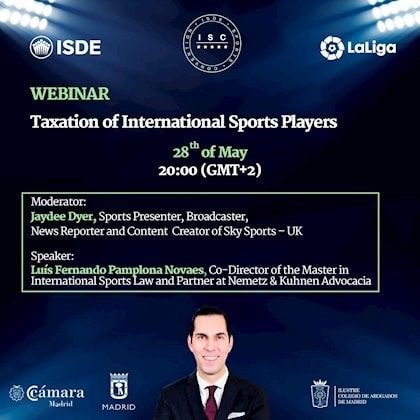 THIS THURSDAY AT ISC TALK LAWYER LUIS FERNANDO PAMPLONA ANALYSES THE TAXATION OF SPORTSMEN AND WOMEN
Brazilian lawyer Luis Fernando Pamplona Novaes, co-director of ISDE's Master in International Sports Law and Partner at Nemetz & Kuhnen Advocacia, will analyse the taxation of international athletes in the ISDE Webinar, the online talk promoted by the Instituto Superior de Derecho y Economía (ISDE) and held this Thursday as part of the ISDE Sports Convention (ISC).
A corporate and tax lawyer specialised in Sports Business, Luis Fernando Pamplona Novaes is a partner at Nmgol-Brasil Agency, Executive Director at APAN Volley Blumenau and Head of Legal Affairs at Brusque FC and Liberty Gaming.
Pamplona Novaes will explain an issue that has become a priority for professional athletes due to the complexity of tax regulations and the 'profisc interpretation' carried out by the Administration: the taxation of individual athletes competing abroad and the regularisation of the payment of footballers' image rights, among other issues.
This is the fifth ISDE Webinar during the state of health emergency decreed by the COVID-19 pandemic, within the ISC, the congress on law and the sports industry organised by ISDE, in collaboration with LaLiga, the Madrid Chamber of Commerce and the Madrid Bar Association.
In the previous ones, the Brazilian lawyer Daniel Cravo, expert in sports law at ISDE and member of the Executive Committee of the International Association of Football Lawyers (AIAF), and the Director of the Women's Football Area of LaLiga, Pedro Malabia, took part in the previous ones.
Likewise, Brazilian lawyer and ISDE professor Marcos Motta, who reflected on the challenges facing the transfer system and football agents in the face of the health and economic crisis brought about by the coronavirus, and the Heads of eSports at Movistar, Ander Pérez and Guillermo Mañas, who reflected on a booming sector that reached a turnover of nearly 1,000 million euros worldwide in 2019.